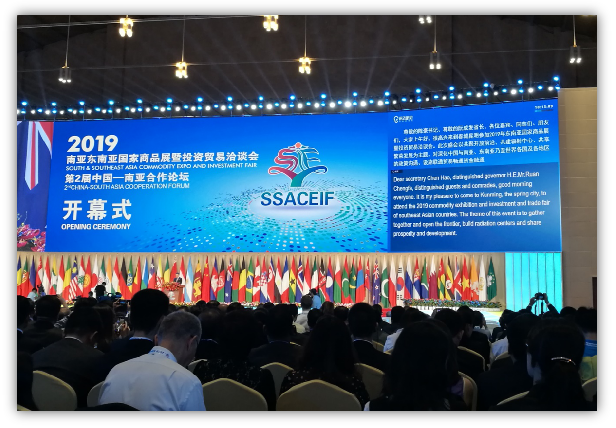 The 2019 South and Southeast Asia Commodity Expo and Investment Fair (SSACEIF) has the same purpose and similar grandeur as the China-South Asia Exposition. It is co-sponsored by the China Chamber of International Commerce, the SAARC Chamber of Commerce and Industry, the ASEAN-China Center and the Secretariat of China-South Asia Exposition.
This SSACEIF, with the theme of "gathering on the frontier of opening-up, jointly building a radiation center and sharing prosperity and development", will be held from June 12th to 18th at the Dianchi International Convention and Exhibition Center in Kunming. It will provide 17 pavilions, which will cover an exhibition area of approximately 170,000 square meters. According to the overall arrangement of its major events and side events, this SSACEIF will also offer a variety of concurrent activities that are rich in content.
Yunnan province is favorably located at the junction of the Chinese economic circle, the Southeast Asian economic circle and the South Asian economic circle. This SSACEIF, relying on the geographical advantage and leveraging the Lancang-Mekong Cooperation (LMC) mechanism, the China-Indochina Peninsula (CICP) economic corridor, the Bangladesh-China-India-Myanmar (BCIM) economic corridor and other cooperation mechanisms, will help participating countries convert their economic complementarities into a driving force for development, promote investment and consumption, as well as create demand and employment. It will enable the countries along the Belt and Road to achieve common development and shared growth through joint consultation in larger scopes, at higher levels and in more sophisticated areas.