Yunnan is located in southwest China in the middle reaches of the famous Lancang-Mekong River, which is praised as the oriental international river. With its 4,061 kilometer-long boundary lines, the Province respectively borders on Vietnam, Laos and Myanmar, while it is in close vicinity of Thailand, Cambodia, India and Bangladesh. For this reason, Yunnan is China's important gateway leading to Southeast and South Asia. Yunnan covers a total area of 394,000 km2 with a population of 45 million. Owing to that it includes 25 ethnic minority groups, Yunnan is China's only province that has the greatest number of ethnic minority groups. Yunnan boasts convenient transportation facilities, which include 13 national first-class ports, 12 civil aviation airports, more than 317 domestic air routes and 50 international air routes. The mileage of its highclass highways totals 209,000 km.

Yunnan is one of the Chinese provinces that have the richest tourism resources, and its fantastic and beautiful natural scenery, colorful ethnic folk customs, long-standing history and culture, inclusive religious belief, and warm and ideal climate make it a natural ideal place for vacation. Represented by Kunming, those areas in Yunnan at the elevation between 1,800 and 2,000 meters are neither too cold in winter nor too hot in summer, and the annual average temperature of 15℃ has created the eternally spring-like climate. Countless highland lakes and ideal ecological environment of Yunnan have nurtured unique tourism resources, making Yunnan the eternally spring-like tourist destination for vacationers and holidaymakers in Southeast Asia.
After construction of decades, Yunnan has formed six major tourist areas, namely International Business Tourist Area in central Yunnan (taking Kunming as its center), Shangri-la Eco-culture Tourist Area in northwest Yunnan (including Dali, Lijiang, Diqing, Nujiang), Foreign Scenery Tourist Area in west Yunnan (including Dehong, Baoshan), Tropic Rainforest and MeKong River Scenery Tourist Area in southwest Yunnan (including Xishuangbanna), Karst Landscape Tourist Area in southeast Yunnan (including Qujing, Wenshan, Honghe) and Northeast Yunnan Culture Tourist Area of Ancient Town in Zhaotong. And Yunnan is reputed as China's famous "Paradise for Sightseeing", "Paradise for Culture Experiencing", "Paradise for Leisure and Holiday", "Paradise for Health and Entertainment", "Paradise for Science Researching and Exploring", "Paradise for Living" and "Paradise for Delicious Food and Shopping".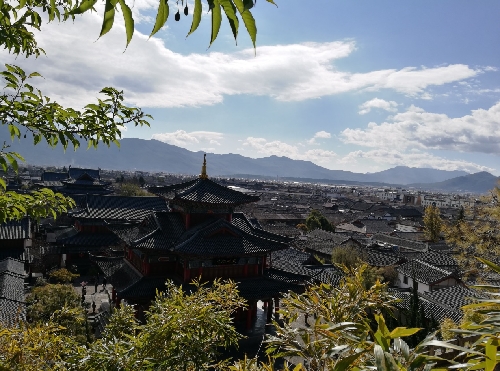 (Lijiang, Yunnan)
Over the past years, Yunnan Province has been promoting Kunming-Dali-Lijiang-Deqen Shangri-la eco-culture tourist itinerary. Meanwhile, it actively promotes to domestic and overseas visitors tropical rainforest and Mekong River tourist itinerary in southwest Yunnan, volcano, geothermal and cross border tourist itinerary in west Yunnan, karst landscape and cross-border tourist itinerary in southeast Yunnan, and vacation and leisure tourist itinerary. Yunnan will also promote more tourist products, such as eco-tour, hot spring and golf, small towns, world heritages, cultural experiencing, ethnic customs and border scenery.
The colorful Yunnan is indeed tourists' paradise. The warm-hearted and hospitable people of all Yunnan ethnic groups cordially welcome the domestic and overseas friends to tour Yunnan, so as to share the joy of returning to the nature and the perfect harmony between man and nature, and experience the entire process to upgrade delight from the scenery to emotions in the heart, then from heart's content and to happiness of the fairyland.
According to the Plan, it is proposed that the total number of tourists will exceed 600 million and the total revenue will exceed RMB 1 trillion in year 2020.