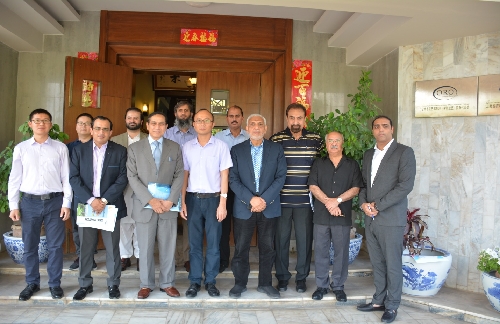 May 23rd, a nine-member delegation of Federations of Pakistan Chambers of Commerce & Industry (FPCCI) led by former Ambassador Mr. Shaukat Muqadam visited the Overseas Representative Office (ORO) of Yunnan province in Pakistan at Islamabad. Promotion of bi-lateral trade and business relations between Yunnan and Pakistan and other relevant issues were discussed.
Director of ORO Mr. Liping shared a brief introduction to Yunnan province and the mission of ORO. He said ORO is the bridge connecting Yunnan to Pakistan in terms of commerce, and would appreciate, encourage and assist any actions aiming to enhance cooperation between Yunnan and Pakistan. Afterward he invited the attendees to watch the promotional videos of South and Southeast Asia Commodity Expo and Investment Fair (SSACEIF) and Everlasting China South Asia Expo (the Trade Center).
Mr. Shaukat Muqadam said on the occasion that there is great room of economic development and mutual cooperation of trade between Yunnan and China.