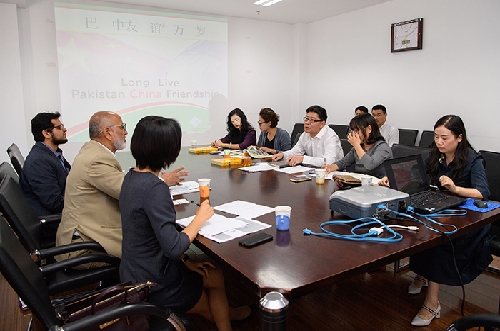 2nd August, Dr. Khurshid Nizam, president of Ecommerce Gateway Pakistan Co., LTD. (ECG), and Mr. Uzair Nizam, vice president of ECG called on Department of Commerce of Yunnan province. The meeting was held for discussion on deepening the cooperation and exchange in trade, investment, exhibition and other fields between Yunnan and Pakistan.
Mr. Yin Yonglin, director of the Foreign Investment Management Office extended his warm welcome to the guests from Pakistan. He then gave a brief conclusion on trade relations between Yunnan and Pakistan. The main export items from Yunnan to Pakistan are chemical products and mechanical & electrical products. Through this meeting, he hoped the two sides can establish stable channels of economic and trade exchanges and further expand the market share of Yunnan plateau characteristic agricultural products in Pakistan.
Dr. Khurshid introduced his company and its main business and sincerely invited relevant Yunnan companies to join the 2019 International Consumer Goods Fair in this November. At the same time he hoped the Yunnan Government could offer 50 booths in 2020 South Asian Expo so that he may organize a special pavilion to display products from Muslim world.
Staff from division of exhibition economy, division of foreign affairs & international trade affairs, division of foreign economic cooperation and ORO office of Yunnan Commerce in Pakistan also presented during the meeting.